The New York Rangers announced Sunday morning that they've extended center Mika Zibanejad. The New York Post's Larry Brooks reports an eight-year deal with a cap hit in the $8.5MM range. Per CapFriendly, the contract breakdown is as follows:
2022-23: $1MM salary + $7MM signing bonus
2023-24: $1MM salary + $9MM signing bonus
2024-25: $1MM salary + $9.5MM signing bonus
2025-26: $1MM salary + $9MM signing bonus
2026-27: $1MM salary + $7.5MM signing bonus
2027-28: $1MM salary + $6.75MM signing bonus
2028-29: $1MM salary + $5.75MM signing bonus
2029-30: $1MM salary + $5.5MM signing bonus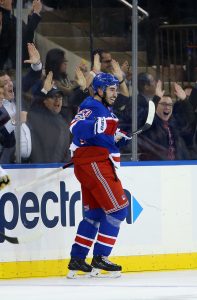 CapFriendly also adds that the deal contains a full no-move clause through the first seven years of the deal plus most of the eighth year.  In 2030, that clause will drop to a 21-team no-trade clause seven days before the trade deadline.
Zibanejad's extension will begin in the 2022-23 season, taking him through 2029-30 — his age 37 season. He was scheduled to become an unrestricted free agent at the conclusion of this campaign.
With Zibanejad's $8.5MM reported cap hit, it's an increase of a little over $3MM on his previous $5.35MM cap hit. The center is coming off a five-year, $26.75MM deal he signed with the Rangers prior to the 2017-18 season.
The contract has immediate salary cap ramifications for the Rangers, who'll have a busy and challenging offseason ahead of them at the conclusion of this season. The team is projected to have $20.2MM in space next year with the cap increasing to $82.5MM. That space is all they have to re-sign Adam Fox, Kaapo Kakko, Vitali Kravtsov, Sammy Blais, and Alexandar Georgiev, as well as filling out the rest of their roster. They're handicapped by a $3.4MM cap penalty from the combined buyouts of Kevin Shattenkirk, Dan Girardi, and Anthony DeAngelo.
Throughout his 604-game NHL career, Zibanejad's scored 200 goals, 234 assists, and 434 points. He's averaged over 20 minutes a game for the Rangers for three consecutive seasons, cementing his role as a bonafide top-line center. He scored 24 goals and 50 points during last season's shortened 56-game campaign.
Drafted sixth overall by the Ottawa Senators in 2011, he's done his best work away from the team that drafted him after Ottawa shipped him away to the Rangers in 2016 in exchange for Derick Brassard. He's scored 283 points in 323 games as a Ranger.
Theoretically, this deal also had a direct impact on another New York squad. The Rangers have long been linked as a possible destination for former Buffalo Sabres captain Jack Eichel via trade. Yet an eight-year commitment of this magnitude to a player that's served as their first-line center for years now would suggest that the Rangers have placed their bets in-house on a center that can take them to a Stanley Cup.
Photo courtesy of USA Today Images.
All salary cap figures courtesy of CapFriendly.