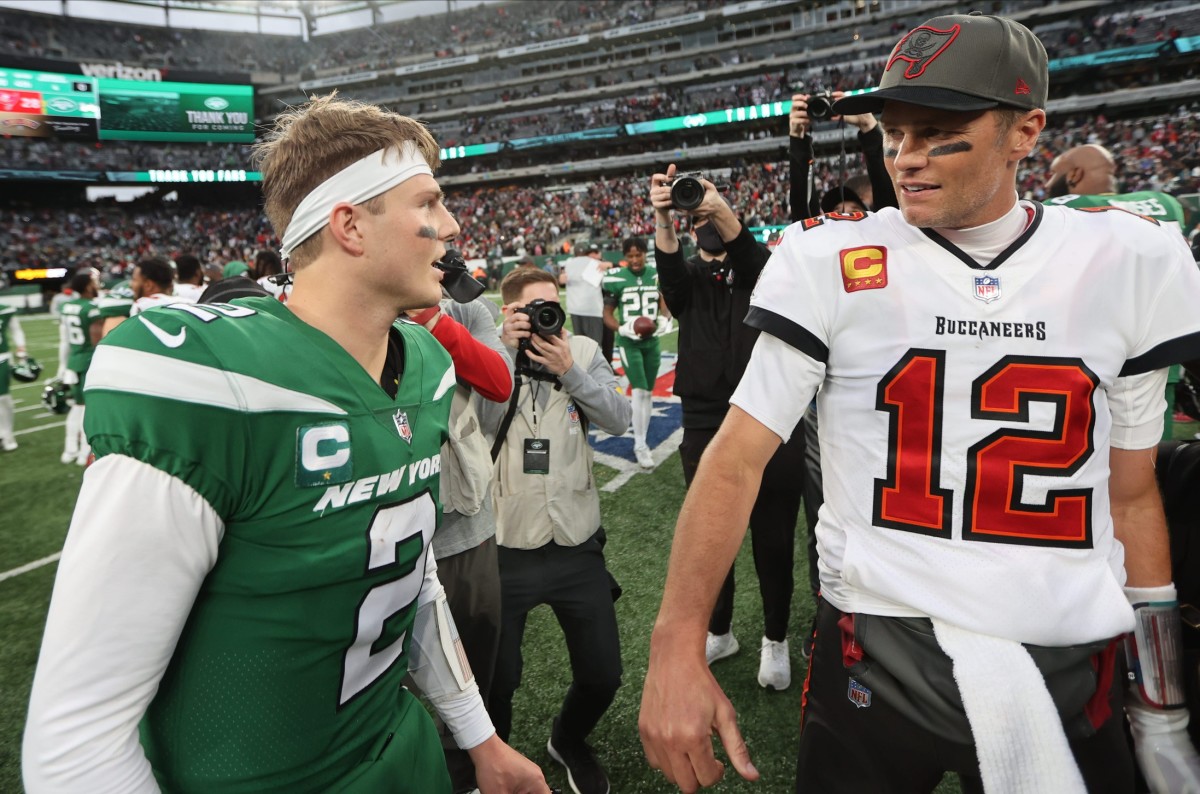 A heck of an effort as the Jets fought TB for a full 60 minutes.  But there are no moral victories in football, so a poor 4th & 2 play call opened the door for Tom Brady to do what he does and the Jets lost a heartbreaker 28-24.  Let's take a look:
Special Teams
– Eddy Pineiro doesn't have much of a leg, as he barely got a 51 yarder over the crossbar on a 50+ degree day.  But he's been reliable and deadly accurate, keeping him around to compete with Matt Ammendola or someone else would be fine with me.
– Braxton Berrios did his usual excellent job in returning kicks as he had a 27.5 average on two returns.
Defense
– On the surface giving up 400+ yards in the air and 28 points doesn't seem like a good defensive effort.  But the Jets did a good job in containing an explosive offense for the first 58 minutes of the game.  If the Jet offense executed their last 4th & 2 play better the outcome and TB stats would've been much different.
– Excellent job by the run defense as TB was "one-handed" offensively, as they generated only 62 yards on 21 carries.  Foley Fatukasi (4 Tackles, 2 TFL), CJ Mosley (13 Tackles), Quincy Williams (7 Tackles) and Elijah Riley (6 Tackles, TFL) led the clamp down.  And LeVeon Bell continued to show he left all of his good football in PIT and never found it again.
– Considering how little pressure the DLine got on Brady its amazing the Jets held TB to 20 points and were leading with two minutes left in the game.  I've said it before and I'll say it again, Carl Lawson must come back healthy and Joe Douglas must add at least one pass rusher (preferably two) in the off-season.
– Even though on various plays Brady picked on them the defenders who stood out to me in the secondary were:
* Bryce Hall – with 9 Tackles and 2 Passes Defensed.  Usually you don't want your CB having a ton of tackles but Hall did an excellent job reading the WR screens and taking the receiver down for no yardage.
* Michael Carter – with 8 Tackles, TFL, Sack and a QB Hit.  Carter like Hall did a good job on WR screens and displayed good timing on the blitz, getting the only sack of the game.
Brandin Echols – with 4 Tackles, a Pass Defensed and a 30+ yard INT which set up a FG at the end of the first half.
Offense
– The OLine followed up their dominant effort from last week (273 yards / 36 carries) with another strong game against the champs.  Running the ball for 150 yards on 26 carries and only giving up one sack.  Whether its players developing, the scheme or just chemistry the OLine has been better than anticipated.  A healthy Mekhi Becton and another draft pick could make this unit nasty.
– Kenny Yeboah took advantage of injuries at the TE spot and had 2 catches for 36 yards. Paging Denzel Mims, that's how you get the coaching staff's attention.
– Too bad Michael Carter left with a concussion because it looked like he was on his way to another big game (54 yards / 3 carries). Terrific burst and special "contact balance".
– Braxton Berrios probably had his best game as a WR with 8 catches for 65 yards and two TD's.  Again, paging Denzel Mims!!!  Berrios is at a point where he's giving off a "Chrebet vibe" as he makes tough 3rd down catches and isn't afraid to go over the middle.
– Nice bounce back game by Ty Johnson after his 3 drop fiasco a couple of games ago. He had 35 yards on 5 carries and a TD, in addition he had 3 catches for 47 yards.
QB
– By far Zach Wilson's best game as a pro (19/34, 234 yards, TD) against excellent competition. He threw with consistent accuracy and wasn't afraid to throw into tight windows over the middle of the field.  Its now four straight games that Wilson hasn't thrown an INT and it was nice to see that he didn't have a "dry period" where he couldn't complete a pass for minutes on end.  Unfortunately the 4th & 2 play call will be focused on, after the game Robert Saleh put the blame on the coaching staff.  But the SNY post game show put the blame on Wilson for trying to be the hero.  I'll let everyone else point the finger at the "culprit", I'm going to focus on Wilson's performance against TB (which I didn't expect) and hope he can repeat it next week against BUF.
The post Zach Wilson Plays His Best Game; Jets Bucs Recap appeared first on JetNation.com (NY Jets Blog & Forum).