The NFL has announced the Saturday and Sunday night schedule for Week 18. The Jets game vs the Buffalo Bills in Buffalo, will now start at 4:25pm.
The week begins with a Saturday doubleheader:
At 4:30 PM ET, the Kansas City Chiefs will visit the Denver Broncos on ESPN/ABC.
Then at 8:15 PM ET, the Dallas Cowboys will visit the Philadelphia Eagles, also on ESPN/ABC.
The regular season will conclude with #Game272, the Los Angeles Chargers at Las Vegas on Sunday Night Football

on NBC.
Per the NFL, the final Week 18 schedule, with networks included, will be announced tomorrow (all times ET, pm).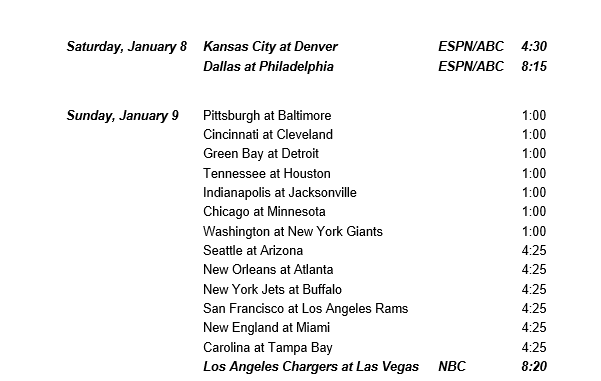 The post Week 18 Schedule; Jets at Bills 4:25 on Sunday appeared first on JetNation.com (NY Jets Blog & Forum).