Careful what you wish for. On December 30, 2018, Jets fans were overjoyed when they learned head coach Todd Bowles was canned. Fast forward three years, and fans have endured at least one head coaching failure and may be questioning whether they should have kept Bowles after all.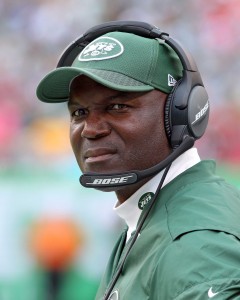 Bowles made a name for himself as a defensive backs coach, and following a two-year stint as the Cardinals defensive coordinator, he was hired by the Jets to replace Rex Ryan in New York. The organization clearly had high hopes for their hire; they gave Bowles a four-year pact despite his lack of heading coaching experience (he had a brief stint as interim HC with the Dolphins in 2011).
The Jets new on-field leader was inheriting a team that had dropped to 4-12 in 2014 … their worst record in seven years. Thanks to a reinvigorated defense that emerged as one of the best in the NFL (and thanks in part to Geno Smith's broken jaw, which thrust veteran Ryan Fitzpatrick into the starting lineup), the Jets improved to 10-6 during Bowles' first season at the helm. However, the entire squad took a major step back in 2016 when they finished 5-11, and Bowles was firmly on the hot seat heading into the 2017 campaign.
The Jets had an identical record in 2017, but the Josh McCown/Bryce Petty-led offense wasn't completely incompetent and bought Bowles another year. There was some optimism with first-round QB Sam Darnold taking over under center in 2018, but the Jets finished with only four wins, the worse showing of Bowles' tenure and the organization's worst record since, well, Ryan was fired. So, on this date three years ago, the organization fired Bowles and began their search for their 19th coach.
"After carefully evaluating the situation, I have concluded that this is the right direction for the organization to take," Jets CEO Christopher Johnson said in a statement. "I would like to wish Todd, Taneka and their family only the best."
We all know how this worked out. The organization initially decided to hang on to general manager Mike Maccagnan, and the organization settled on Adam Gase to replace Bowles. After allowing their GM to hire a new head coach, run the draft, and deal with the early wave of free agency, the organization curiously fired Maccagnan before the offseason concluded. Gase managed to improve the squad to a 7-9 record in 2019, but following a 2020 season that saw the Jets win the second-fewest games in franchise history (two), Gase was fired.
While the Jets are still trying to land on their feet, Bowles has made out pretty well for himself. The coach was hired as Bruce Arians' defensive coordinator in Tampa Bay in 2019, and Bowles has helped turned the Buccaneers' defensive line into one of the best in the NFL. The Bucs ranked first in rushing yards allowed in both 2019 and 2020 (they're third in 2021), and the defense has been top-10 in points allowed since the beginning of the 2020 season. Of course, Bowles also helped guide a defense that won a Super Bowl championship last season.
Bowles was a hot name on the HC circuit last offseason, as he was connected to gigs with the Lions, Falcons, and Eagles. He ended up getting an extension from Tampa Bay last offseason, but there's still a chance he moves on; Bowles will interview for the first vacancy that's opened in the NFL in Jacksonville.
While Bowles has clearly rehabilitated his image following an ugly few years in the New York, it remains to be seen whether he's actually a viable NFL head coach. Similarly, following a COVID-filled year that saw the Jets turn to a rookie QB and an ancient Joe Flacco at QB (at least Mike White was fun!), it's difficult to make any determination on Jets head coach Robert Saleh.
Sure, it's plenty easy to second guess the Jets for how everything unfolded. However, until Bowles emerges as a capable HC (or New York beats him to the punch by returning to the playoffs under Saleh or someone else), it's hard to be too critical of the Jets.
Photo courtesy of USA Today Sports Images.