The Jets' 2019 Schedule, Game by Game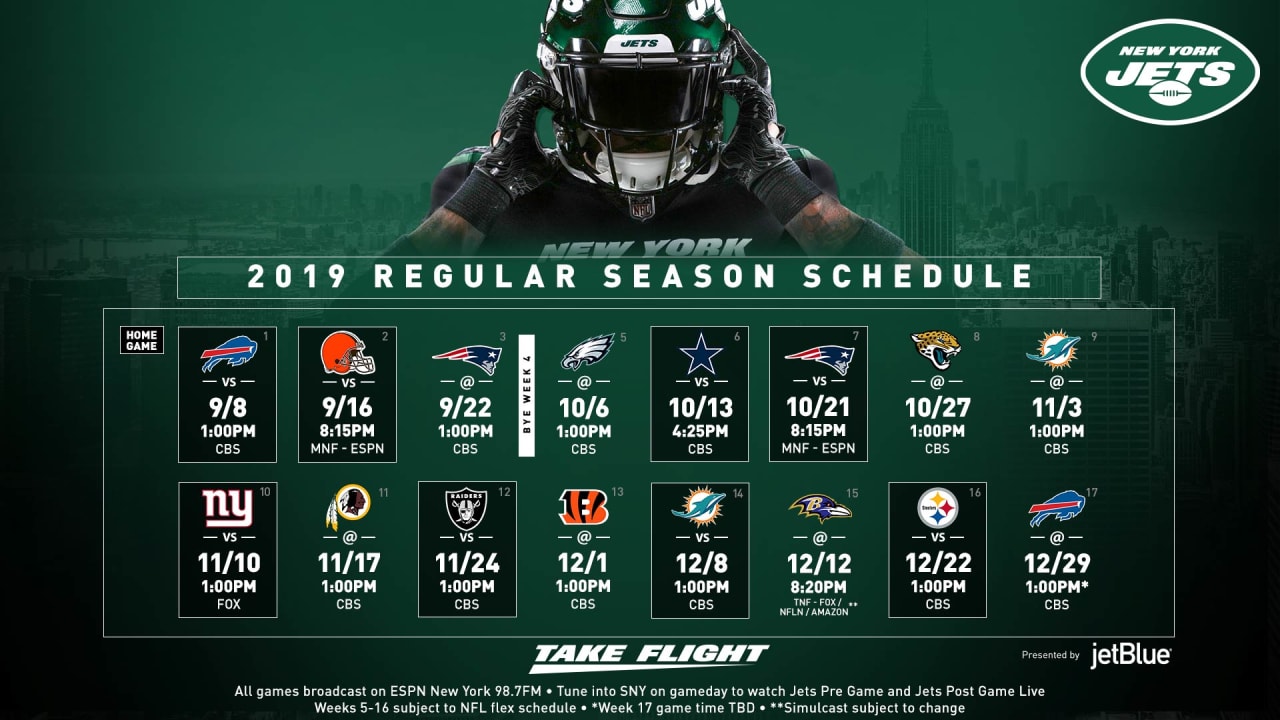 Game 11 — vs. Oakland Raiders, MetLife Stadium, Sunday, Nov. 24, 1 p.m., CBS
The battle of ex-Steelers stars in WR Antonio Brown vs. RB Le'Veon Bell. Also the Jets' first game vs. a Jon Gruden-coached team since they beat the Bucs, 14-12, in 2005.
Game 12 — at Cincinnati Bengals, Paul Brown Stadium, Sunday, Dec. 1, 1 p.m., CBS
After 16 seasons of playing Marvin Lewis' Bengals (Jets won 5 of 8), they get to tackle the new Stripes of HC Zac Taylor, fresh off of coaching up Rams QB Jared Goff.
Game 13 — vs. Miami Dolphins, MetLife Stadium, Sunday, Dec. 8, 1 p.m., CBS
After facing Ryan Tannehill 10 times as Miami's starter since 2012, the Jets are set to battle a familiar beard. Ryan Fitzpatrick is 4-6 vs. the G&W all-time and was 13-14 as Jets starter in 2015-16.
Game 14 — at Baltimore Ravens, M&T Bank Stadium, Thursday, Dec. 12, 8:20 p.m., FOX/NFLN/Amazon
Mosley returns to his home office of the previous five seasons. That could be key since the Jets are 0-5 and have never held a second-half lead at the Ravens.
Game 15 — vs. Pittsburgh Steelers, MetLife Stadium, Sunday, Dec. 22, 1 p.m., CBS
Will RB Bell ring in the holidays for his new team against his old team? In 3 games vs. Ben Roethlisberger and the Steelers in the Meadowlands, the Jets are 2-1.
Game 16 — at Buffalo Bills, New Era Field, Sunday, Dec. 29, 1 p.m., CBS
Darnold posted his first game-winning TD drive as a pro in the Jets' 27-23 rebound victory in December. They've won 2 of the last 3 at New Era.
Published at Thu, 18 Apr 2019 00:10:00 +0000