We're going to kick off today's analysis with some things you might not have noticed from yesterday's loss to the Panthers:
Scraping the bottom of the barrel
The main takeaway from this game was that there were a ton of defensive players playing key roles that you never would have expected a few weeks ago.
In fact, Del'Shawn Phillips and Adrian Colbert, who ended up in full time roles after Lamarcus Joyner, Jamien Sherwood and Blake Cashman all got injured and Sheldrick Redwine got benched for giving up the long Robby Anderson touchdown, weren't even on the roster until being elevated from the practice squad on Saturday afternoon.
The Jets schemed around this by running a few packages where there was only one linebacker on the field. One saw the Jets use four cornerbacks and another saw them move CJ Mosley up to the edge of the line so the Jets could send a five man rush with John Franklin-Myers rushing the interior.
However, having these unfamiliar faces in their main personnel packages was always likely to lead to some confusion. Here's one play where Sam Darnold picked up the first down anyway but could have had an even easier play because the back was left completely uncovered underneath.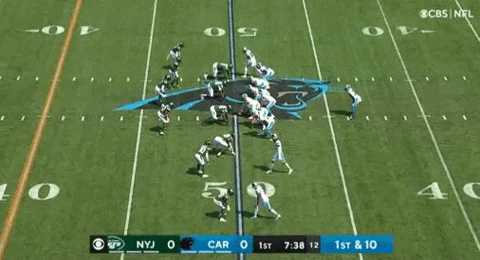 Nothing prepared the Jets for the confusion that ensued when Mosley left the game for a few plays after taking an awkward fall on a DJ Moore end around, though.
The Jets adjusted by moving Marcus Maye into the box alongside Phillips as an extra linebacker. However, nobody replaced him at safety, so the Jets only had 10 players on the field. Luckily the Panthers apparently didn't notice and just ran the ball for a short gain. However, nobody on the Jets noticed and they lined up for the next play with 10 men again!
It looked like Maye realized at this point but by then it was too late and the Panthers completed a first down pass to get into the red zone. Hamsah Nasirildeen then re-entered the game and a few plays after that Mosley returned on third down and the Jets held the Panthers to a field goal.
Losing Mosley in-game for any length of time is bad enough but when you're already without Cashman, Sherwood and Jarrad Davis, it effectively leaves you with nobody to organize the defense.
Linebacker depth generally is already a massive concern for the Jets and makes you question whether filling out your rotation with converted safeties is a smart move if durability is going to be a problem.
Even though he left the game really early with a foot injury, Sherwood was already struggling, as he was blocked out of the action on two good early gains. As for Mosley, he had mixed results on the day and is still finding his feet in this slightly different role but his importance in terms of keeping everything in order cannot be understated and he clearly see things a beat earlier and arrives a few steps quicker than the rest of the linebackers on the team, as this play demonstrates.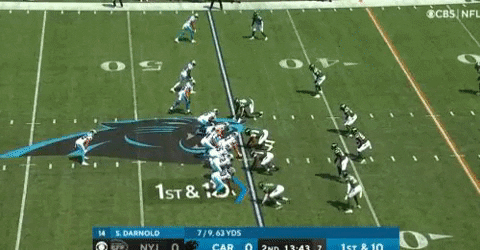 Huff and Ready
One other player who never would have been expected to be an opening day starter was Bryce Huff. Huff finished the game with two tackles and two quarterback hits and had two other pressures as he settled into his role over the course of the game and helped the Jets generate some good pressure without needing to blitz.
The concern with Huff is whether he can hold up against the run and early signs were not very positive on that front.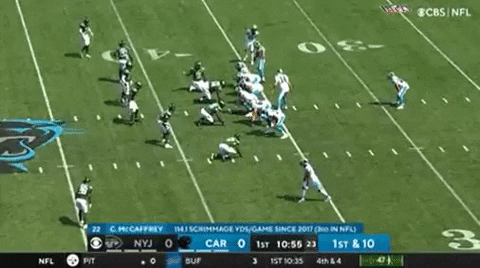 Huff also got driven off the line a couple of times in the fourth quarter. Eventually, Shaq Lawson will probably get more playing time and perhaps be in the game on first and second downs so he's officially the starter. Huff should still play a big role while he continues to show this level of promise though.
In terms of depth on the edge, it's worth mentioning that while Tim Ward didn't make any direct impact in his few snaps, his impressive get-off was on display and there was one play where he blew by the offensive tackle for what would have been an easy sack had the Panthers not been running a draw play.
Pancakes with da Becton
This was a feature that we were planning to retire this season, but in solidarity with Mekhi Becton after his knee injury, we'll keep it alive for one more time. Get well soon, big fella and we'll hopefully see you back doing more of this before too long: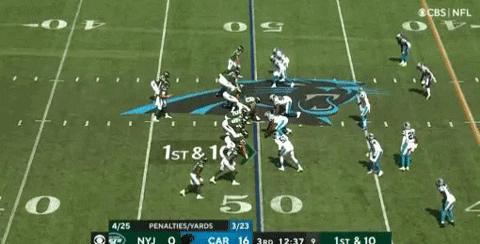 Of course, the play itself was an epic fail but that's because Alijah Vera-Tucker was lit up by Haason Reddick before he could pull out in front of the ball carrier. Great play by Reddick, who made the quick read to get ahead of Braxton Berrios' block and blow up the play.
Let's not end on a sour note though. Here's one of Vera-Tucker's three pancakes on the day:
---
We'll have some more in-depth analysis for you throughout the rest of today and over the next few days, so keep checking back here early and often.