We're going to kick off today's analysis with some things you might not have noticed from yesterday's game:
You have to admire the Con-fidence
After his thrilling touchdown last week, Conor McDermott was keen to make more of an impact in the passing game, as he actually was open and calling for the ball on the first snap of the game: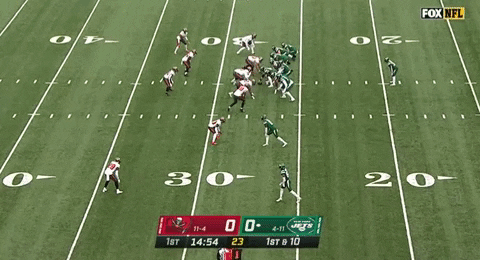 With just two tight ends active, the Jets looked set to use McDermott a lot during this game and may even have had some plays dialed up for him. However, Dan Brown and George Fant getting injured may have forced the Jets to abandon that plan.
Hopefully McDermott won't turn into a diva now and start griping about his lack of touches. Although actually that would be kinda funny.
Point of Berrification
Far be it for FOX of all networks to state something factually incorrect but they shared a statistic that said Braxton Berrios was the first Jets wide receiver ever to rush for a touchdown and catch a touchdown pass in the same game.
Fake news!
Yes, he was the first such player to achieve this in a regular season game but surely any Jets fan on seeing this statistic immediately thought back to the divisional round game against the Jaguars in the 1998 playoffs where Keyshawn Johnson achieved exactly that in leading the Jets to a 34-24 win.
However, Johnson went above and beyond in that game which should probably go down as one of the greatest all-round performances in NFL postseason history.
Not only did Johnson rush for a touchdown and catch a touchdown pass in the same game, which as we've established is a rare achievement for any wide receiver, he also:
had a 100-yard receiving game (121 yards on nine catches);
would've had a third touchdown but was incorrectly ruled down at the one and there were no replays that year;
recovered an opposing team's fumble (after a turnover); and
intercepted a pass (on a late Hail Mary).
Sorry, Braxton, you're not on that level yet. Good game, though.
In fact, that interception/fumble recovery combination is so rare that no Jets defensive player has achieved it in postseason history – and Shaq Lawson is the only current Jets player with one of each this season.
That Jets-Jaguars game, the 23rd anniversary of which will be one week from today, was actually the last time that the Jets hosted a playoff game other than after the 2002 season when they hosted the Colts in the wild card game and beat them 41-0.
Or, put more optimistically, it was the last time a road team scored a point against the Jets in the postseason.
Limiting Mims
For anyone looking for a Denzel Mims update with the top three receivers out and DJ Montgomery elevated from the practice squad just to make up the numbers, this says it all.

It's difficult to have any more optimism that this player is going to amount to anything on this team.
Looking ahead
This game ultimately sucked so, with one game to go, let's instead look ahead to what we can look forward to on Sunday.
A Jets win can gift-wrap the division for the Patriots. At least that means there's a silver lining should they lose.
Ripken, DiMaggio, Goldberg. Names synonymous with the greatest streaks in sporting history. However, one Jet has a streak going which rivals any of these. Since 2015, Morgan Moses has given up exactly five sacks every season according to PFF. That's in jeopardy on Sunday as so far he's only given up three in 2021. That's the lowest since he gave up three in his rookie year…in just 70 pass block reps.
There's a couple of exciting battles to lead the Jets in individual statistical categories. Quinnen Williams and John Franklin-Myers are tied on six sacks (as they had none between them in December, and none this week). They are also tied for the team lead on 12 quarterback hits. (For context, Carl Lawson led the NFL with 32 in 2020). In addition, Justin Hardee and Del'Shawn Phillips are tied on 10 special teams tackles each. Finally, Jamison Crowder leads the team with 50 catches but Braxton Berrios (46) and Elijah Moore (43) could be in range if Crowder doesn't play again on Sunday.
Looking even further ahead
In case you missed it, we can also already confirm the Jets' opponents from next season after the Jaguars and Broncos clinched last place:
Home: Three division games, Ravens, Bengals, Bears, Lions, Jaguars
Road: Three division games, Browns, Steelers, Packers, Vikings, Seahawks, Broncos
We'll leave you guys to figure out where the draft picks are likely to end up, but it's looking like around 5th and 10th or something.
P.S. No, it wasn't a typo. Happy New Year!
---
We'll have some more in-depth analysis for you throughout the rest of today and over the next few days, so keep checking back here early and often.