It's hard to find fault with the Jets' top pick – Alabama defensive tackle Quinnen Williams was regarded by some as the best overall talent in the 2019 class and the Jets' decision to forgo an edge rusher to pounce on him at No. 3 overall makes plenty of sense. After that, however, things get a little bit murky.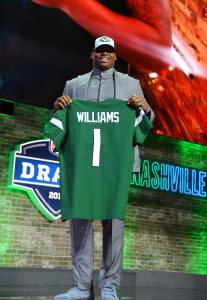 The Jets were already behind the 8-ball in this year's draft thanks to last year's move up for Sam Darnold. In order to jump from No. 6 to No. 3 last year, Gang Green forfeited their 2019 second-round pick (No. 34 overall) to the Colts (and then some), meaning that their second pick in this year's draft did not come until the third round at No. 68 overall.
Here, they took Florida linebacker Jachai Polite, a player who once had first round buzz but slipped after bombing at the combine. Polite also dropped like a stone thanks to rumblings about his work ethic and unwillingness to do what was asked of him by coaches, but GM Mike Maccagnan seems to think that he can get more out of him.
"We know some of the risk in him," Maccagnan said of Polite after the draft. "We also think there are some very good qualities about him."
From there, the Jets used their remaining selections on USC tackle Chuma Edoga, West Virginia tight end Trevon Wesco, Minnesota linebacker Blake Cashman, and Rutgers cornerback Blessuan Austin. Edoga – who served as one of Sam Darnold's primary protectors – has some NFL potential, but did not fill the Jets' need for a center. Cashman offers the kind of hard-nosed playing style that coaches love, but it's hard to get juiced about a player who is one year removed from double shoulder surgeries. Ditto for Austin, a corner with great size and tools who has not played much over the last two years thanks to knee injuries. Wesco, meanwhile, is a quality blocking tight end, but the Jets probably would have been better served by tapping a developmental wide receiver here.
How would you grade the Jets' draft? Click below to cast your vote (link for app users):
//static.polldaddy.com/p/10306618.js
Take Our Poll
Photo courtesy of USA Today Sports Images.