Quotes (4/18): TE Evan Engram, RB Saquon Barkley, WR Golden Tate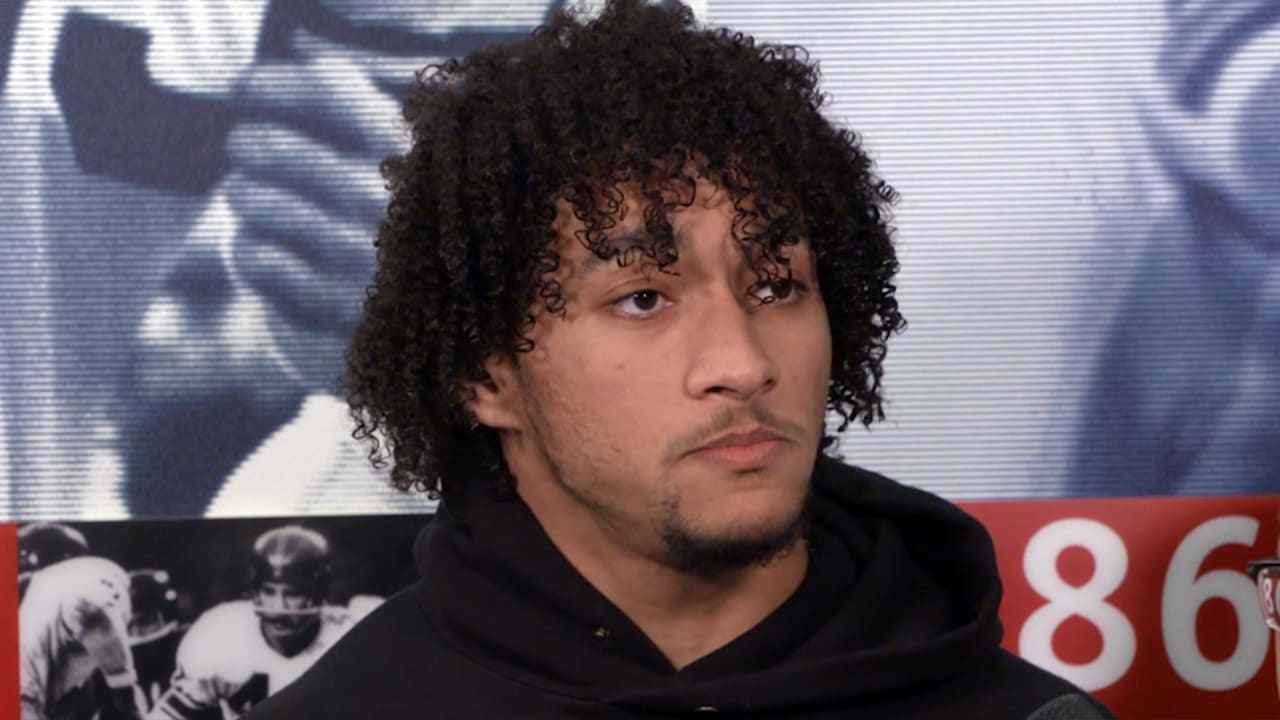 Q: How do you feel about your football team heading into this season?
A: This team, I'm excited. I think we have a lot of potential. We have added some new faces and we were able to sign some guys and lock them in, like Shep. Just been training with these guys and competing. I was not here for this part last year, I was in the draft process, so to be here, working out and running, I am really happy with what we got and I am excited for the future.
Q: How do you look at your responsibility for this team?
A: To continue to grow every single day as a player and a person. Take my leadership to another level. That is pretty much it.
Q: What is your reaction to the Odell trade and how do you see this team competing without him?
A: My reaction was, everyone said they were shocked. He called me right before it got out to the news. He talked to me and was a big brother like he always was. He gave great advice. To see him go, it sucks, but like I said in the interview with Taylor Rooks, it is sad to see people go but we have to keep it moving. We have to continue to get better and continue to grow. That is where we are at as a team right now. We have to continue to believe in each other and take it to another level next year.
Q: Can this team be better next year with him not here?
A: Yes, I think we can. That is the team we have right now. That is our team right now and we have to believe in each other. We have to believe in the coaches that we have, the system, and continue to compete against each other right now because we cannot play anyone else. When the season comes around, take it to another level.
Q: When you came here, Odell was 25 and you are a young guy. Did you say that Odell and yourself are going to be great for many years with the Giants and now that you are not, does it tell you something about the Giants or the business?
A: Definitely. It talks about the business. I did not need the Odell trade to open my eyes up to the business. Your first week coming to the NFL, all over the league, guys are getting cut and moved around. Like you said, Odell is a really good friend of mind. We expected to have a great career with each other but unfortunately, that does not happen. It does not change anything with our friendship. He is in Cleveland and I am in New York. We are one phone call away and not that many miles away. That is not going to change our friendship, but for the team, one thing we can focus on is the team right now. Just like in Cleveland, he has to focus on Cleveland and we have to focus on ourselves right now, continue to get better and move on.
Q: You talked last year about wanting to take that next step. How, if at all, does the trade and Odell not being here change that and what added responsibilities do you feel?
A: It does not change anything for me. That was my mindset. Just have to continue to grow. That is how I am as a competitor. Find new things and challenge myself. That is what I am going to continue to do throughout my career. Obviously there are many things on the field, whether it is pass blocking or catching the ball. Off the field, fill more of a leadership role. Being more vocal, stepping up and challenging people. I was not able to be part of this phase last year. Now I am part of it. Do what I know, work, compete and when I'm out there, challenge Wayne (Gallman), have Wayne challenge me, challenge Evan (Engram) to take our team to another level.
Q: Is it important to you to become the best running back in this league?
A: No. Obviously, my competitive nature would love to be the best player in the league and the best running back in the league, but I think you could make an argument that I was one of the best running backs in the league last year and we went 5-11 to account for it. My mindset is whatever it takes to take this team to another level and compete for a championship, whether that is 2,000 yards, 1,500 yards or 800 yards.
Q: What top guys have reached out to you in this draft class as you have been through this last year and what have you told them?
A: Not really anyone reached out to me. The only people that have are my old college teammates. I have been around some of those guys. I train with a lot of quarterbacks and I trained at UCLA, so I got to see a lot of those guys in there. The only advice I would say, no matter what pick, whether it is the first round, second, seventh or undrafted, at the end of the day, it does not matter. Just come in and be ready to work and compete. The rest will take care of itself.
Q: What do you see in Dwayne Haskins' game?
A: I got to see him on TV against Penn State. I was into that game. It was a heartbreaking loss at home for us. Me and Dwayne go way back. He was actually the Rivals Quarterback MVP and I was the Rivals Running Back MVP. He was the guy that was throwing to me at that Maryland Camp. He is young and talented. He has a great career ahead of him and wherever he ends up, I wish him the best.
Q: What is the culture in the locker room like?
A: It is early, but it feels no different. We are still in there and making jokes on each other. Playing Connect Four and competing. That is what you need. You need a team and a core that believe in each other not only on the field but off the field. Whether that means doing more activities off the field like bowling, playing pool, going to eat. Those things are what help build a team and shape a team. It is early but we have to continue to take those steps throughout the year.
Q: What is your message for frustrated Giants fans?
A: Why? Why would they be frustrated? In my opinion, we have a great team, a great quarterback, great offensive line, great running back and great wide receivers, so on and so on. We figured it out somewhat in the second half last year. We have that mindset and that belief about team, toughness and together. We could have a great season this year.
Q: Will you watch the Draft?
A: No, I will not watch. The draft is long. For me, I got out there the second pick and it felt long for me. I could not imagine a Lamar, who had to wait till the 30th pick. Will I watch? Probably not. I will probably spend more time with my family or with the guys. I am anxious because there are some new teammates that are going to come in. It is obviously above my pay grade, so I have no idea who we are going to be drafting but I hope whoever we draft they are ready to come in and compete.
Q: What are you hoping they accomplish this draft?
A: Just guys that love the game. That is the biggest thing I have learned so far in my one year in the NFL. Just guys that love the game and love competing, whether you are 2-14 or 14-2. I know I sound like a broken record because I said it before, but it is truly what it takes. If you look at the Patriots last year, obviously Tom Brady gets all the love and the praise, but there are so many people around him that just love the game and it is the system they operate over there. My mindset is why not? Why not take that approach? I don't care who we draft, if it is a quarterback, running back, tight end, defensive end, whatever. As long as they are guys that are willing to come in and work and buy into what we have here as a team, they can help us win.
Q: Do you understand that people still think they should have taken a QB over you?
A: Yes. I understand that. I don't care for their opinions or anything, I can't change those opinions. Not being cocky or anything, but if a Rookie of the Year doesn't sway that mindset, then I don't know what will. My mindset is to continue to prove to the people in this locker room and in this building that they got the right guy. Not only the right guy because I can break off an 80-yard touchdown, because there are a lot of people in the league that can do that, but as a guy that can buy in and take that leadership role, I believe that I have been able to show that so far and I have been able to take that to a whole different level.
Q: What is your sense one year in with Eli?
A: I think he can do it all. I believe he can do it all. A big thing for me is that film doesn't lie. It doesn't lie. If you go back and watch the second half of the year when we all started playing at a high level as a team, you started seeing how he played, how I played, how the defense played and the offensive line played. That's what it is. It isn't going to take one guy to win the game. I know we like to put the blame on one guy when it comes down to it, I know I sound like a broken record, but I will say this for the rest of the year, it is all about team, toughness and together. Having that mindset and being bought in.
Q: How much pride do you take in being part of this organization?
A: A lot of pride. This is the team that drafted me and gave me the opportunity to live my dream. For me, my dream was to be in the NFL and to play at a high level. I am blessed and fortunate enough to play at a place like this. You look behind us and you see the Super Bowl wins and the guys on this wall. I want to be a part of that one day. I am going to do whatever I can to be a part of that.
Published at Thu, 18 Apr 2019 16:36:00 +0000