Daniel Jones is generating interest from several NFL teams. ESPN's Adam Schefter reports (via Twitter) that the Duke quarterback recently had "private meetings and workouts" with the Giants, Broncos, Dolphins, and Chargers. Schefter also echoes previous reports that Jones is set to meet with the Redskins next week.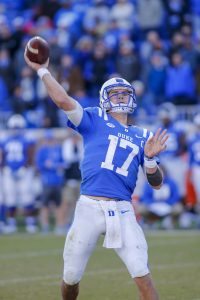 Jones, a three-year starter at Duke, is generally considered to be the fourth-best quarterback in this year's draft, with mock drafts pegging him on a tier below Kyler Murray, Dwayne Haskins, and Drew Lock. However, there's still a good chance that the signal-caller hears his name called during the first round, especially considering the lack of quarterback depth behind him (West Virginia quarterback Will Grier is the only other player at the position who's generally being mentioned as a first- or second-rounder). Jones completed 60.5% of his passes for 2,674 yards, 22 touchdowns, and nine interceptions in 2018.
The Giants interest in Jones isn't all that surprising, as we heard in late March that the organization could be eyeing the prospect with the 17th-overall pick. The Dolphins and Redskins are also a pair of QB-needy teams that have a pick in the teens, so their inclusions also make plenty of sense. The Dolphins moved on from Ryan Tannehill earlier this offseason, leaving them with no clear-cut starter. The Redskins acquired Case Keenum to fill in for the injured Alex Smith, although neither player should be seen as a long-term option for the organization.
The Broncos are in a unique position, as they acquired veteran Joe Flacco earlier this offseason. Their new signal-caller is only 34-years-old, although he has shown signs of decline in recent years. The Broncos are also armed with the 10th-overall pick; if the team is focused on acquiring their quarterback of the future, they should have a shot at both Haskins and/or Lock. If Denver is particularly interested in Jones, perhaps they could explore a trade to move back (although this is merely my speculation).
The Chargers may simply be doing their due diligence on the Duke quarterback, or maybe they're hoping that the rookie will slide down to the 28th pick. Philip Rivers is 37-years-old, but he did have one of the best seasons of his career in 2018. The Chargers also finished with 12 wins before bowing to the Patriots in Divisional Round; if they want to build off last season's success, it might make more sense to use their first-rounder on a player who could contribute right away.
Photo courtesy of USA Today Sports Images.